activism

,
15 November 2023
What kind of gathering against anti-Semitism invites anti-Semites?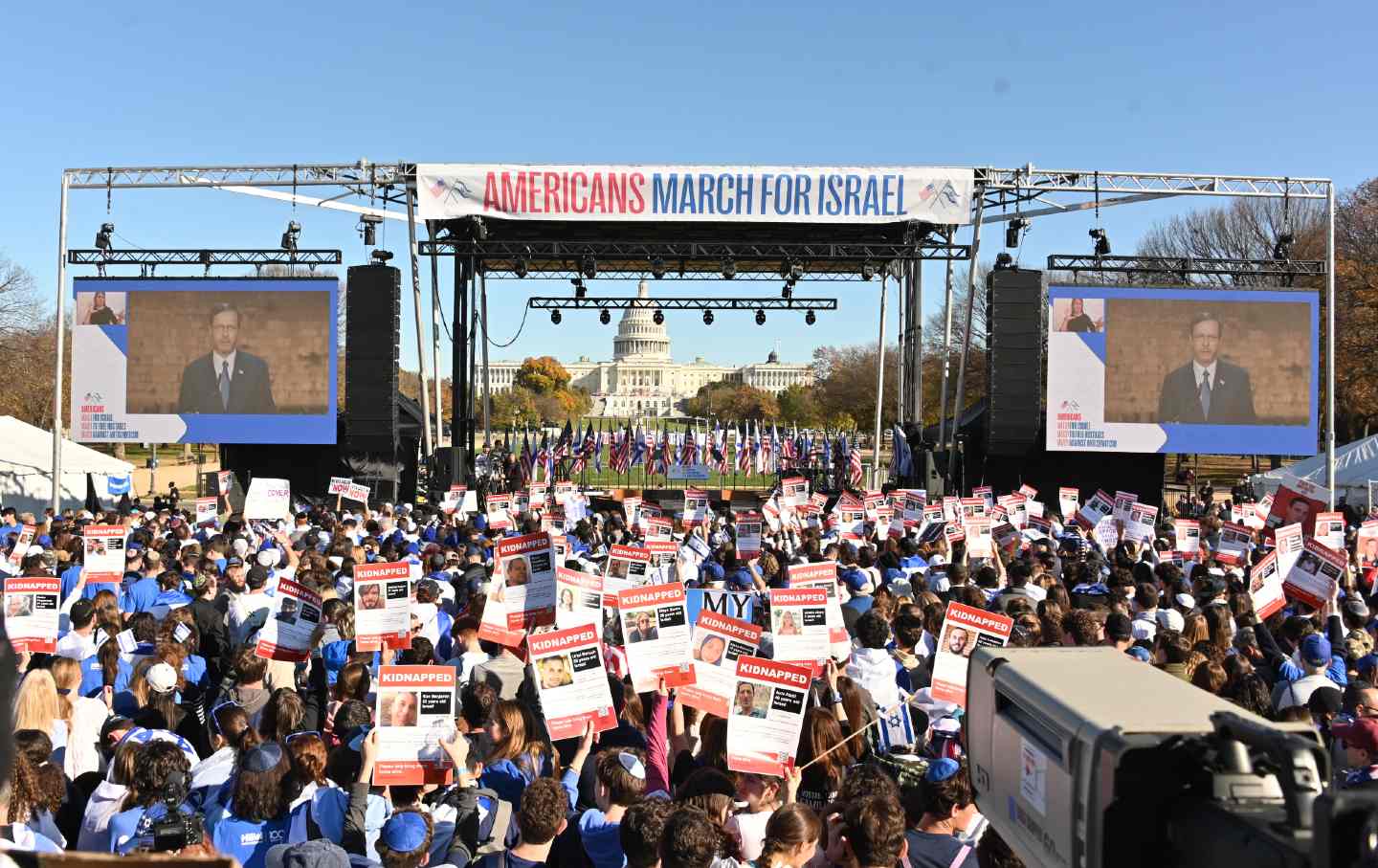 washington, DC—"Final estimated number at pro-Israel rally in DC: 290,000 people. "This is the largest Jewish gathering in history since Mount Sinai." Trump's former ambassador to Israel was very happy David Friedman Although Friedman's number about the March for Israel gathering held Tuesday on the National Mall in Washington, D.C. appears bloated, I saw huge turnout. It was a political event like I had never seen in my two decades of covering rallies in this city. In persistently calling for continued bombing of Gaza, it was a celebration not only of war but of war crimes. Friedman's joy at such a performance is not surprising. It was stomach-churning to see Democratic Party leadership – Chuck Schumer, Hakeem Jeffries – joining in on the fun just hours before Israeli Defense Forces captured Gaza's al-Shifa hospital, and it was a sad tale of the killing of civilians and It came amid yet another round of attempts to target journalists. Show this horror to the world.
When it comes to supporting the Israeli government, it's no shock to see Democratic Party leaders in step with Trumpists like Friedman and House Speaker Mike Johnson, whose hand he held onstage in honor of Israel. It's not just that Democratic leaders have said nothing about evangelical speakers whose history is so anti-Semitic that it would give Donald Trump pause. (Make no mistake: anti-Semitic Christian Zionists made up a significant portion of the crowd.) Or that they failed to comment on racist handmade signs People present for the occasion. The point is that his appearance was a slap in the face to the 80 percent of Democratic voters who want a ceasefire. This is because they are openly hostile to the generation of youth whose support they need to remain in office – a generation that uncomfortably believes that Palestinian lives matter. It's because they despise Jews like me who tell Israel that their genocidal attacks should not be carried out in our name. It's that they are in the process of handing the next election to an anti-fascist who, in the words of, Washington PostEchoing Hitler by calling his opponents "vermin."
Schumer and Jeffries would rather stand with the pro-war crowd that screamed on his head Van Jones is calling for peace. Speaker after speaker criticized the idea of ​​a ceasefire and denigrated the ceasefire protests as "pro-Hamas". C-list celebrities like Debra Messing and Michael Rapaport endorsed a message whose only logic is bigotry and bombast. But the coup came as he applauded a video speech by Israeli President Isaac Herzog, who said that civilians in Gaza were legitimate targets, that "the entire country there is responsible." This was not just a rally taken out in support of the war. This was a rally in support of a war crime.
savior of tomorrow Then Would say it was a gathering "against anti-Semitism." But what kind of rallying cry against "anti-Semitism" includes John Hagee, the Christian Zionist evangelical leader who has said that Hitler was brought by God on a divine mission to "create" the state of Israel? You bring Hagee out of his basement just to send the message that this is not about making sure the Jews are safe. It's about showing solidarity with Israel, no matter who the allies are.
More information on Israel–Gaza war
What kind of rally against anti-Semitism involves more war, more bombings and racist signs calling for the end of not only Hamas but Palestine? Or as one masked protestor held a sign, "From the river to the sea, you will only see Israel."
This does not mean that everyone present was there to celebrate the war. Many people are understandably concerned by reports of rising anti-Semitism. But the message was much less about anti-Semitism than about "finishing the job" in Gaza.
The march was also not a call to "free the hostages." Instead, it has promoted bigots, trolls, and an Israeli president who has openly called for genocide. At one point, at Herzog's insistence, the crowd stopped chanting against the cease-fire and instead shouted "Never again." This was an insult to those sacred words. "Never again" – as I grew up – was assumed to mean that Jews would never again remain silent when anyone on this planet faced genocide. But for Herzog, this means that for the terrible crime of October 7, Israel would have to declare total war against the people of Gaza. For Herzog, there are no innocents in Gaza. Chanting "Never Again" in the comfort of sunny D.C. while half a world away a trapped ghetto is being bombed in our name This rally is shameful. Friedman may be thrilled, but the Democrats who sacrificed their party's presidential hopes on the altar of a war crime deserve nothing but contempt. If young people don't turn out to vote, remember this rally, and remember how Schumer and Jeffries armed with Johnson, looked at 80 percent of his voters, and spit in his face.
Correction: A previous version of this article incorrectly stated that Speaker Nancy Pelosi was in attendance at the rally.
submit correction

Reprints and permissions