1. Hormonal changes
Think of hormones as the body's chemical messengers, signaling it to act. During pregnancy, your hormonal flow is different from a normal day. Your body is helping the fetus grow. And it is the hormone that the uterus is dependent on. Like a womb doll, a worker of sorts. It is bound by strings or hormones, which make the body a haven for the development of the baby.
Certain hormones are responsible for maintaining the health of your skin. Often, changes in the level of one hormone affect the other. According to a review article published in the National Library of Medicine, the flow of hormones that maintain skin quality is affected, causing itchiness in certain areas.
2. Intrahepatic cholestasis of pregnancy (ICP)
According to a research article in NLOM, ICP occurs in 0.2 to 2 percent of expectant mothers around the third trimester. The liver, one of whose main functions is to produce bile to aid in digestion, is obstructed in this condition. Through the bile ducts, bile is delivered to the gallbladder and then to the small intestine. A blockage in the bile duct stops the flow of bile and re-enters the liver, where it enters the bloodstream.
Imagine the tap on a washbasin as the liver produces bile and the bottom pipe forms the bile ducts. A blockage will cause the sink to fill up and overflow. Or, bile will begin to leak into the bloodstream. Additionally, bile salts flowing through your bloodstream can penetrate your skin and irritate your nerves, causing them to itch. Bile flow can be affected by hormones if not by blockages – the hormones responsible for making it flow are compromised.
What are the symptoms of itchy feet during pregnancy?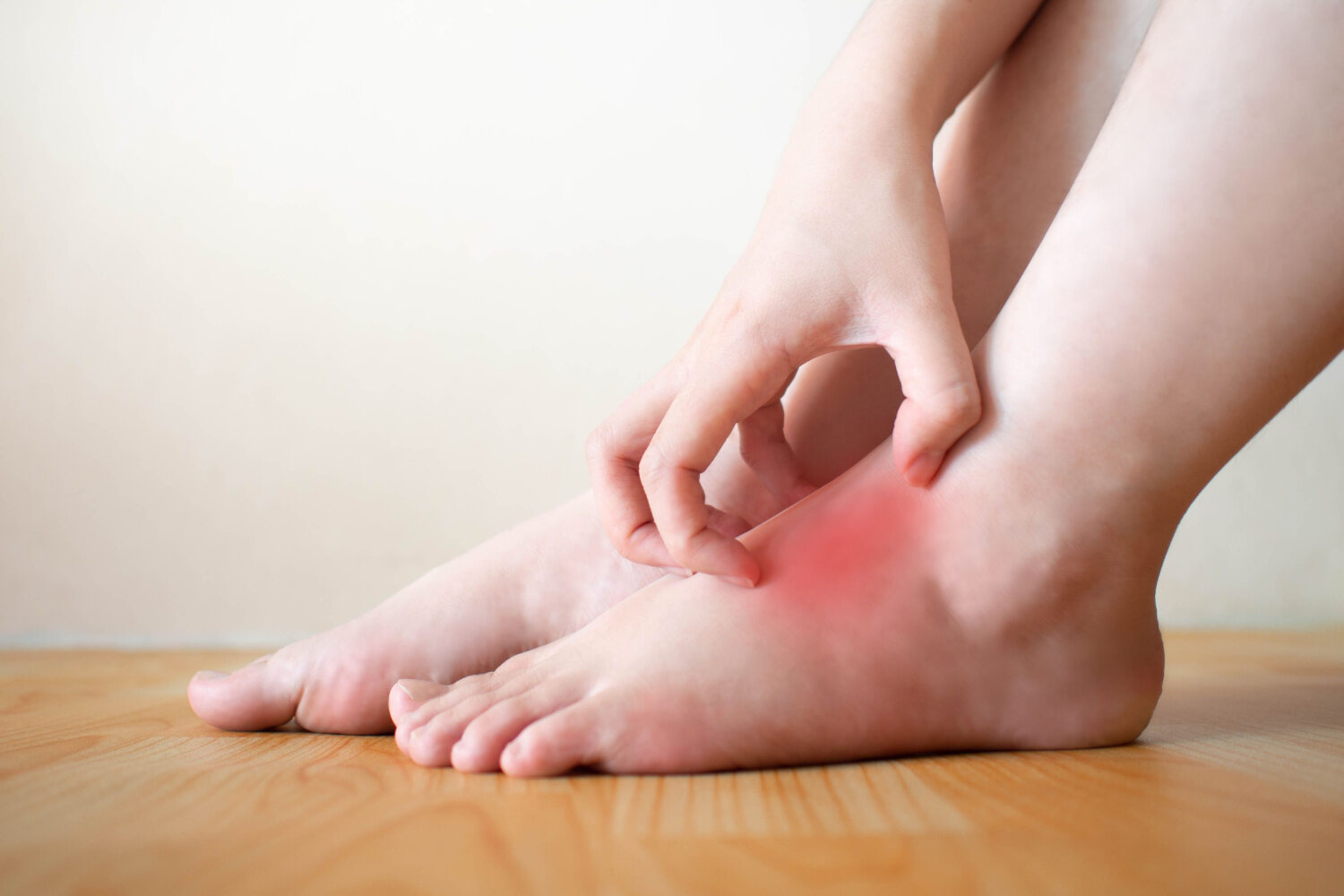 By comparing your symptoms with these, you can determine if your symptoms are stemming from hormonal changes and cholestasis.
Small, itchy bumps that look like bug bites (prurigo)
Itchy hives, such as a rash (PUPP)
Scaly and red itchy patches (AEP or eczema)
Severe itching of hands and feet
One thing that is certain is that your skin will return to normal and healthy after the birth of your baby.
Home Remedies for Itchy Feet During Pregnancy
If your symptoms are not that severe, try these most effective home remedies carefully selected from the pool of home remedies for itchy feet during pregnancy.
1. Oatmeal bath
Take oats and grind them in a blender. And place it in a bucket full of hot water. Soak your feet in it. Studies have proven the effectiveness of using oats to relieve itching during pregnancy.
2. Ice packs
Wrap a cloth over some ice cubes and gently apply it to the itchy area. Do this for no more than 15 minutes per session.
3. Moisturizer
Unscented moisturizers like shea butter and cocoa butter will keep your skin hydrated. This will prevent any itchiness arising from dry skin due to hormonal changes.
Treatment for itchy feet during pregnancy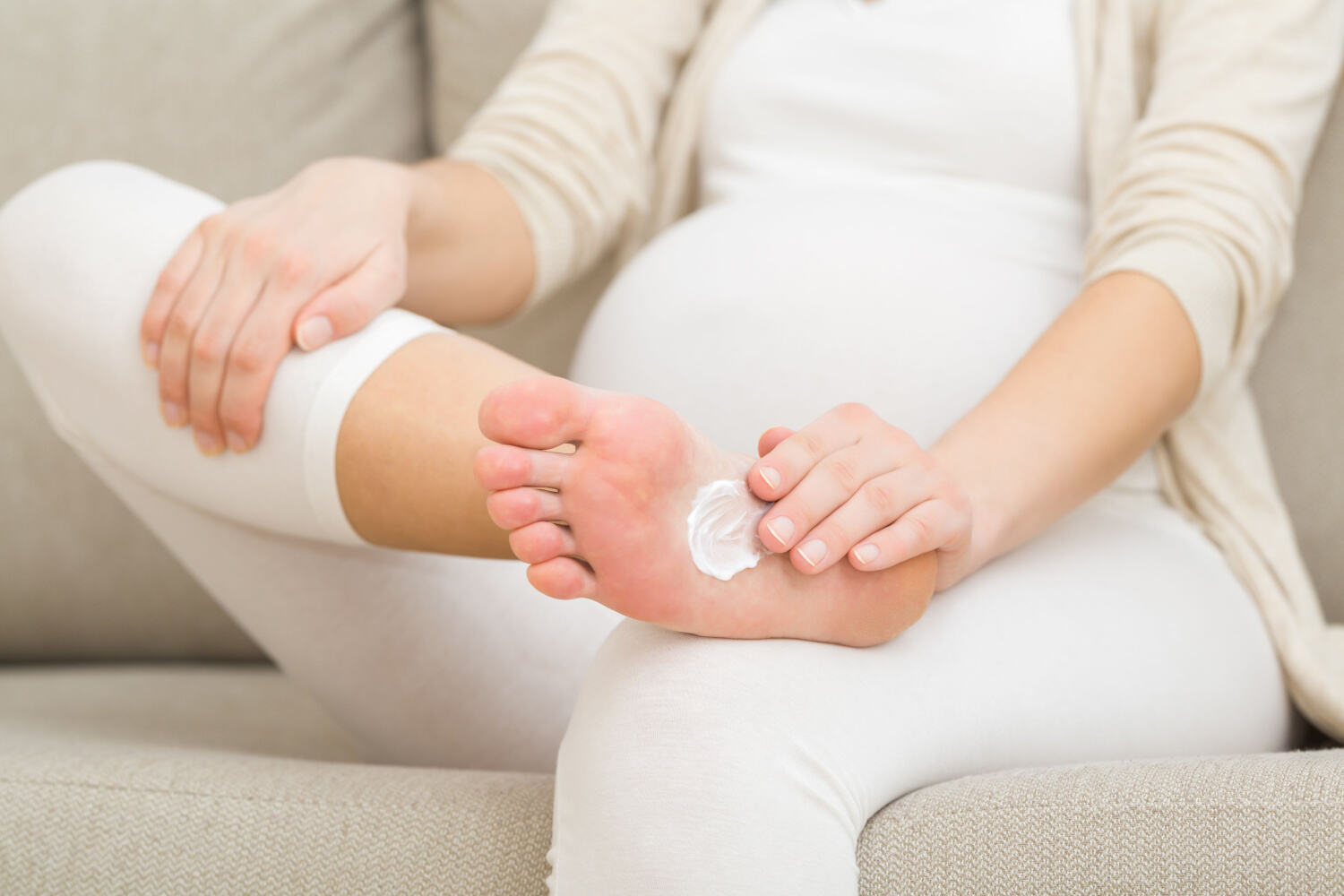 It is recommended not to use any over-the-counter or non-prescription medication unless your symptoms go away with self-care. Doctor-prescribed treatments such as ultraviolet B phototherapy can relieve itching caused by psoriasis or eczema. Other solutions for itching include aqueous creams with menthol and vitamin K supplements to improve blood clotting. Also, if you have sleepless nights due to itching, chlorphenamine can be taken to help you sleep easily.
When should you see a doctor?
If you experience any of these mentioned symptoms, see a doctor immediately
Yellowing of your eyes or skin (jaundice)
Gray or pale stools
Nausea or stomach problems
Pain in the upper right side of the abdomen (where the liver is located)
severe itching
Dark colored urine
These are symptoms of intrahepatic cholestasis. Seek immediate medical attention if you think you have cholestasis. There are treatments to keep it under control, it eventually goes away after you give birth.
Pregnancy is like watching a magical rainbow when you are expecting your baby. But you have to keep up with the rain. The body goes through many changes and there are some inevitable discomforts such as itchy feet during pregnancy or any other bumps in the road. Nevertheless, there are many treatments to remove all such obstacles. From ice packs and oatmeal baths to doctor-prescribed remedies, itchy feet can be treated.
FAQ's
1. How do I know if I have cholestasis of pregnancy?
The itching sensation will be accompanied by a yellow tint to your skin and eyes. In addition, you may have other symptoms such as upper right abdominal pain.
2. Does cholestasis affect the fetus?
Uncontrolled cholestasis can lead to premature birth and fetal distress. So action is needed.
3. In what month does cholestasis begin?
Cholestasis begins in the third trimester or in the seventh, eighth or ninth month of pregnancy.