England boss Gareth Southgate was involved in an awkward interview after his side's 1-1 draw with North Macedonia on Monday night.
Ennis Bardhi put the Minnows ahead in the 41st minute, silencing the away crowd in the process.
---
Yet Jani Atanasov's own goal was enough to save England from embarrassment and secure a point.
After the match, Southgate said that he had learned 'a lot' about his team from the performance.
Jules is putting Joe on the spot, who is handling this like a pro 👏😅#three lions , #euro2024 pic.twitter.com/QBQJJHg29S

– Channel 4 Sport (@C4Sport) 20 November 2023
And he was involved in an extremely awkward interview with Channel 4, in which presenter Jules Breach was alluding to Joe Cole.
However, Cole didn't seem ready to ask any questions, and then there was an awkward silence.
The former Chelsea and West Ham star jokingly asked Southgate: "So you haven't asked what you're doing for Christmas?"
Southgate saw the funny side and asked Cole: "What are you doing?"
The former Premier League star blamed Breach, quipping: "No, he called me there and I had no questions.
"So I thought I'd ask you that."
It came as England fans were heard chanting 'Channel 4 is f***gs**t' during the match.
This was one of the more entertaining aspects of the match, as the match desperately lacked quality.
However, England are unlikely to care, having finished qualifying unbeaten in their eight matches in the competition.
They won six of them, while failing to defeat only Ukraine and North Macedonia away from home.
England will now be in Pot 1 for next month's Euro draw, with the main event taking place next summer.
Speaking after the Three Lions maintained their unbeaten run, Southgate pointed to the biggest positives of their qualifying campaign.
"I think the really big results were the win in Italy in March and the result against Ukraine, so it means coming here tonight was a completely different test," Southgate said.
"Considering that we had already qualified and everything we had achieved, I thought the mentality of the players tonight was excellent and the quality of the ball was good on a very difficult pitch.
"Maybe it was just that finish, that final pass that was difficult to find against their defence, but I thought there were a lot of positive things to take from these performances.
"Now we've got the next exciting part with the draw in early December, so we'll see what the path really looks like."
And the 53-year-old also praised Trent Alexander-Arnold and Rico Lewis for their performances.
"There are a lot of players to keep an eye on, because in this batch of games, Trent [Alexander-Arnold] He has done an excellent job again in midfield, using the ball really well and performing really well," he said.
"He [Lewis] His composure with the ball was excellent, the fact that he reacted to that blow the way he did was really rude.
"He's a super footballer and he was excellent, I thought. We're really happy with him."
Latest sports news: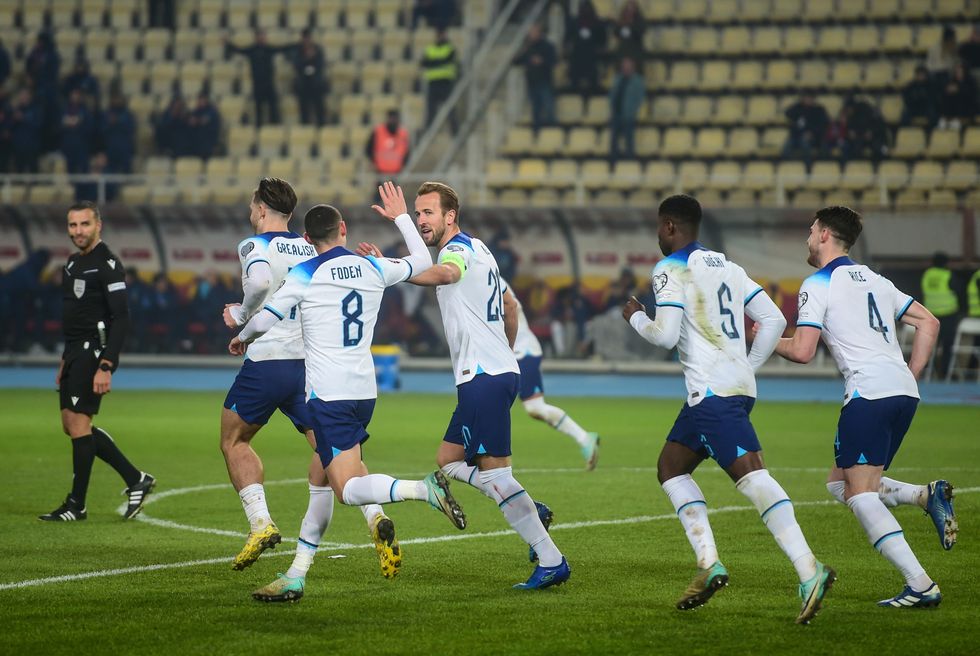 England were not at their best during the recent draw with North Macedonia
getty
England's next match will be against Brazil in March.
The last time both the teams met was in November 2017 and that match ended goalless.