Embarking on your baby's first journey is a milestone, and trust me, I'm right there with you, in the thick of planning my own little one's debut journey. I know firsthand the mix of excitement and anxiety that comes with traveling with a baby. To ease our collective minds, I reached out to my circle of travel experts—seasoned parents who've mastered the art of globetrotting tots in tots. I've compiled the crème de la crème of their tips with my own experience to create a tried, tested and completely parent-approved guide.
Choosing your destination is the first step
It is important to consider what type of vacation you are after. Are you looking for a peaceful beach retreat for peace? Or perhaps an adventure that's easier to manage when your child isn't yet walking? Choose a place that matches your wishes. Also, consider time zone differences. If your baby still doesn't sleep well, staying close to your time zone can help avoid too much disruption to their routine.
When it comes to flights, direct routes are your friend
Less time spent on take off and landing means a smoother experience for everyone when traveling with baby. If possible, book a separate seat for your baby to give you both some extra space. For long flights try to get bulkheads where a bassinet can be attached to provide a safe sleeping spot for your little one. Plus, planning the flight around your baby's sleep schedule can be a game-changer.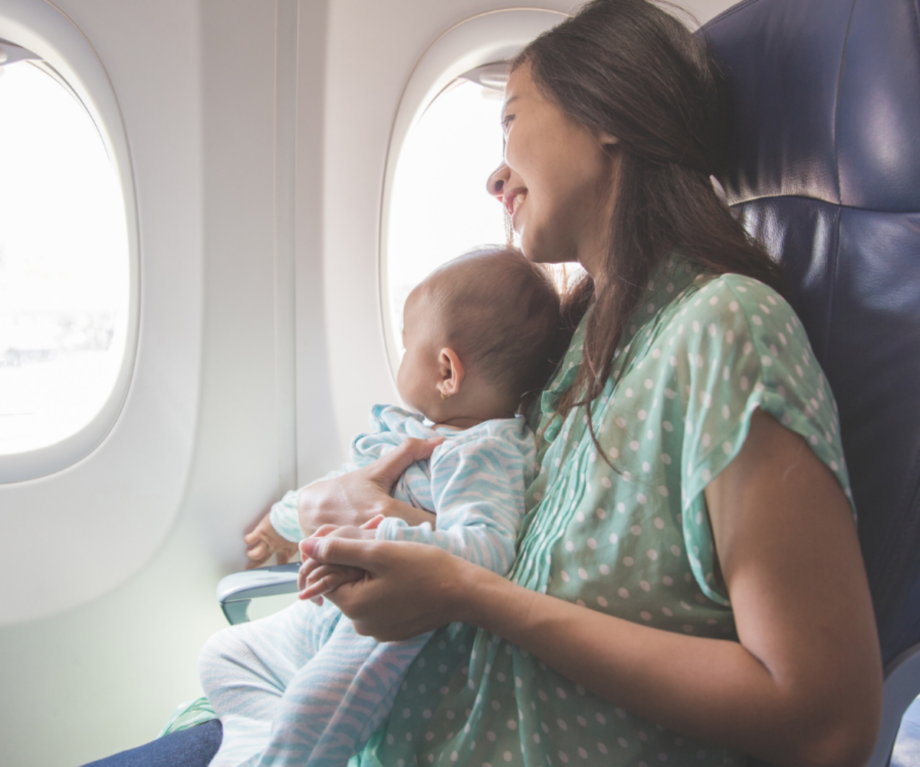 Next is choosing where to stay
Choose accommodations that cater to families with small children. Look for hotels that offer in-room refrigerators, bottle sterilizers or microwaves, and bottle warmers or kettles for cribs, milk and snacks. Some hotels offer additional amenities such as babysitting, childproofing and strollers. And don't forget about laundry service for longer stays – this can be incredibly helpful as babies need frequent changes.
Packing is often the most overwhelming part (at least for me).
Kids bring a lot of gear. Fortunately, most places you'll visit sell basic baby supplies, so for longer trips, you can buy what you need there. Pack enough to get you through the first few days. Make a comprehensive list: clothes for all weathers, lots of diapers, wipes, baby food, formula, bottles and favorite toys. In your carry-on, include essentials for easy access – think enough diapers, wipes, a change of clothes (or two), favorite snacks and a few favorite toys to keep your baby entertained. And remember, always pack extras – with kids, it's best to be prepared for anything.
When it comes to travel day, remember that airline policies are generally child-friendly
When traveling with a baby you can usually bring an extra baby item like a stroller and car seat and sometimes a diaper bag for no extra fee. As policies vary, check with your airline in advance For formula or breast milk, the TSA allows more than the standard liquid limit so bring as much as you need for the day of travel (and then double or triple) – just notify the security agent when you start the screening process.
While traveling, it is important to maintain your baby's routine
Bring familiar things like a special toy or blanket to sleep with. If you're dealing with a significant time change, try gradually adjusting your baby's schedule before you go. Change sleep times in 15-minute increments to ease into the new time zone Once you arrive, use natural light to help reset their internal clock. Remember, patience is essential – children will adapt in their own time.
Ultimately, ensuring the trip is a vacation for everyone, not just childcare in a new (and less convenient) location, is essential.
It's about balance – planning activities that are enjoyable for adults, yet manageable with a child. For example, a scenic drive where your baby can sleep in the car seat while you take in the sights, or a wine tasting at a family-friendly vineyard where kids are welcome. Find destinations with a mix of sightseeing and relaxation spots, like parks and beaches, that everyone can enjoy at their own pace. Also consider bringing along a nanny or grandparents, or booking a few hours with the hotel's nanny services to give yourself a break. That way, you can enjoy a spa day, a leisurely meal over a casual dinner, or some quiet time to recharge.
Remember, this is a vacation for you too, so don't overpack your itinerary. Keep plans flexible and allow for spontaneous adventures – sometimes these unplanned moments create the best memories. Think of it this way: you're not just running from point A to point B. You're kicking your kids' travel stories. It's about those cool afternoons by the ocean, the smiles when you discover something great together, and the snapshots that will fill your family albums. With these top tips, you are fully equipped to make your baby's first vacation a joyous one for all So, strap in your little one, grab that extra pacifier and dive into this adventure. Here's to smooth sailing (or flying!) on your family's journey.
Did you enjoy this article?
Get similar content straight to your inbox.
Please enable JavaScript in your browser to submit the form